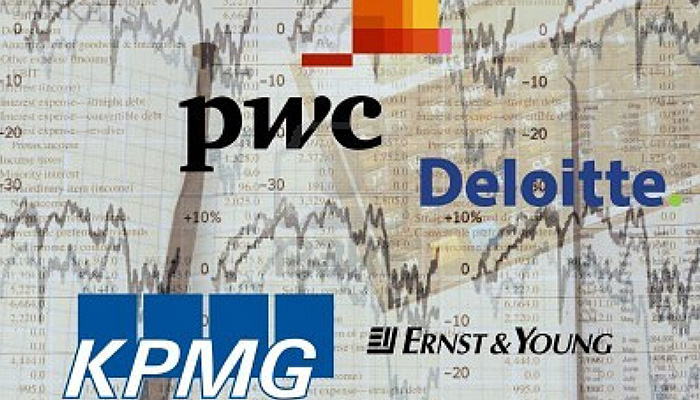 1. Thông tin tuyển dụng EY Việt Nam.
Hạn nộp hồ sơ: 26.03.2018 (Thứ hai)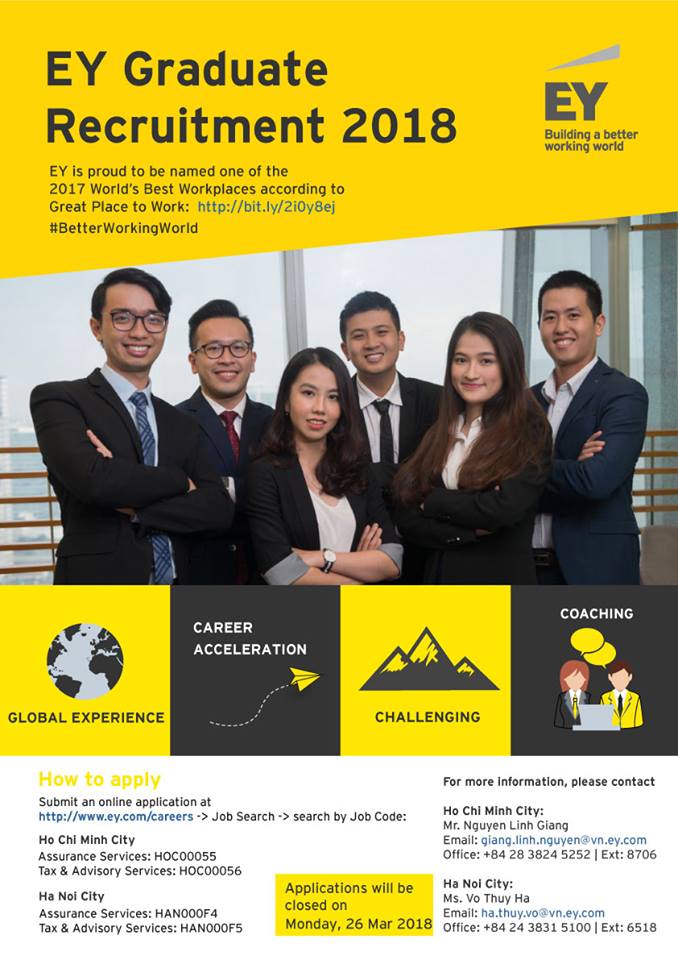 EY are offering opportunities at both Hanoi and Ho Chi Minh City offices. You'll experience ongoing professional development through diverse experiences, world-class learning and individually tailored coaching. We'll provide you with real work, real clients and real experiences, as well as training and development to kick-start your graduate opportunities. More importantly, you'll get a sense of our culture and values and start to build the career you'd like to shape. Sound interesting? Well this is just the beginning.
Submit an online application at http://www.ey.com/gl/en/careers –> Students –> Job Search –> Keyword Search by Job Code as below.
Ho Chi Minh Office:
Assurance position: HOC00055
Tax Position: HOC00056
Ha Noi Office:
Assurance position: HAN000F4
Tax Position: HAN000F5
What working at EY offer:
EY offers a competitive remuneration package commensurate with your work experience where you'll be rewarded for your individual and team performance. We are committed to being an inclusive employer and are happy to consider flexible working arrangements, where this may be needed.
Plus, we offer:
Attractive salary
Professional, dynamic working environment
Support, coaching and feedback from some of the most engaging colleagues around
Opportunities to develop new skills , clear career path and promotion opportunities for high performance candidates
We only accept an online application through our system and application will be closed on Monday 26 March 2018
If you can confidently demonstrate that you meet the criteria above. Make your mark. Apply now.
Want to get to know us better?
For more information, please contact
Ho Chi Minh City:
Mr. Nguyen Linh Giang
Email: giang.linh.nguyen@vn.ey.com
Office: +84 28 3824 5252 | Ext: 8706
Ha Noi City:
Ms. Vo Thuy Ha
Email: ha.thuy.vo@vn.ey.com
Office: +84 24 3831 5100 | Ext: 6518
2. Thông tin tuyển dụng Deloitte Việt Nam.
Hạn nộp hồ sơ: 13.04.2018 (Thứ sáu)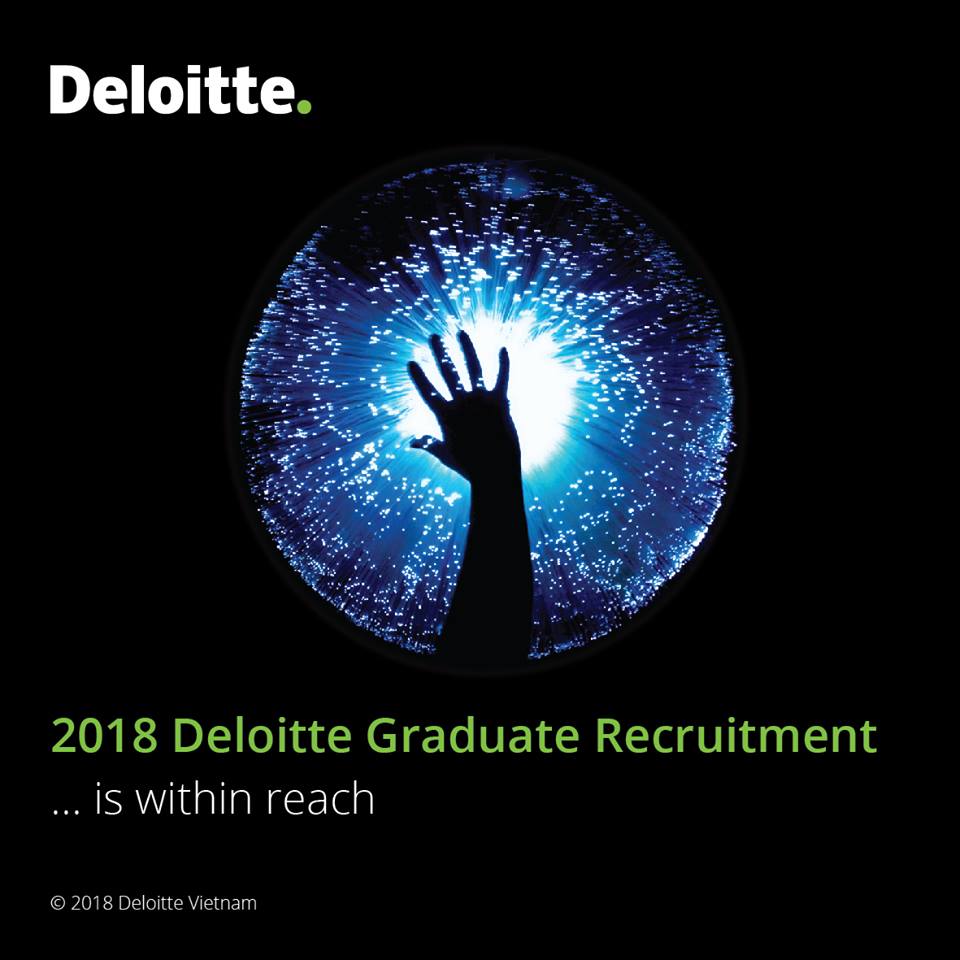 Deloitte Vietnam offers you the opportunities to work with inspiring leaders and supportive teammates who will challenge you to achieve your best in a culture of commitment to each other, sharing and celebrating our successes together.
For this 2018 program, we are open for 2 positions including Audit Associate and Tax Consultant in both Hanoi and Ho Chi Minh City offices.
What you need to become one of us:
Background in accounting/ auditing/ economics/ commerce/ finance/ banking/ law and/or foreign trade
Good command of English, both verbal and written
Ethical behavior
Strong interpersonal and teamwork skills
Enthusiasm and ability to assume a high level of responsibilities
High commitment to succeed with a strong will to learn
Strong record of academic achievement
How you can join the program:
Kindly complete your online application http://bit.ly/2GUwuWr from now until April 13, 2018 with the application package includes:
Most updated CV in English
Profile photo (could be a separate file or inserted in CV)
Most updated transcript or degree
Please be noted that only shortlisted candidates will be contacted for the next selection process including a written test and interviews that happen during April and May 2018.
3.  Thông tin tuyển dụng PwC Việt Nam.
Hạn nộp hồ sơ: 01.04.2018 (Chủ nhật)
Are you ready for the opportunity of your lifetime?
As one of the world's leading professional services firms, we help businesses, not-for-profit organisations and governments to create value and improve the way they work. Our purpose is simple: build trust in society and solve important problems. By embarking on a graduate career with us, you'll have the opportunity to build a meaningful and extraordinary career. 
We're hiring:
Tax Consultants
Hiring in Hanoi & HCMC
Assurance Associates
Hiring in HCMC only
Advisory Associates
Hiring in HCMC only
Management Consulting Associates
Hiring in Hanoi & HCMC
Kindly complete your online application https://pwc.to/2H3D1hw from now until April 01, 2018.
4.  Thông tin tuyển dụng KPMG Việt Nam.
Hạn nộp hồ sơ: 31.03.2018 (Thứ bảy)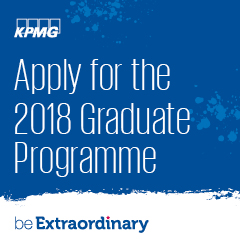 At KPMG, we'll have you working with the nation's most respected companies from day one. You'll receive world-class training and mentoring, and mix with some of the brightest minds around.
We're looking for graduates who are proud to work at KPMG. Team players who are also innovative thinkers, people who relish the challenge of solving problems and who can communicate their ideas with conviction and passion. People have a real passion for learning, who want to be at the leading edge of their chosen profession, and who want to make a difference. People who display integrity and objectivity in everything they do. 
Function for Application:  Audit, Tax, Legal
Details Requirement:
Fresh graduates with a degree in Accounting, Auditing, Economics, Commerce, Finance, Banking, Tax, Law, Foreign Trade, and Other Related Fields;
An excellent command of English, both verbal and written, and a good command of spoken and written Chinese (Mandarin) is an advantage;
Computer literacy;
Excellent communication and interpersonal skills;
Team work spirit;
Commitment and drive.
Able to demonstrate personal value align with KPMG core Values.
If you're that kind of individual, then at KPMG you'll be given the room to be yourself and develop your career in the way you'd like. 
The Application Process
This is an important moment in your career. Show us you have the skills, aspirations and experience we're looking for and you'll join a diverse community of bright minds at KPMG. We've designed an application process to support you in showing us your best.
Stage 1: Online Application Form (16 February 2018 to 31 March 2018)
This is your chance to tell us about your academic background and any work experience you may have undertaken. This should take about 20 minutes.
Stage 2: Assessment Test (01 April 2018)
If you're successful with Application Screening process, you will be asked to participate in our Assessment Test. Designed especially for KPMG, they look at your ability to analyse numerical and verbal data, as well as assess your business and technical knowledge. The assessment test will take around 60 minutes.
Stage 3: Launch Pad Recruitment Event (07 & 08 April 2018)
If your test is successful we'll invite you to attend a Launch Pad event, this is the final stage of the recruitment process.
Launch Pad will combine assessment with the opportunity for you to learn more about the fantastic career opportunities available at KPMG. During the day we will be looking for you to demonstrate the KPMG behavioural capabilities that will give us the confidence that you will be successful in our Firm.
Throughout the day, you will also have the opportunity to meet lots of our people, including within the area you have applied to, from Partners to Graduate Trainees.
If successful you will have your job offer within a week!
*please note, the application process may vary for a small number of routes 
Stage 4: On boarding September 2018
The successful candidates will have chance to join a series of welcome event from KPMG New Graduate Boot Camp Workshops to KPMG Induction Training which will provide you with the necessary skills and knowledge before you start working officially.
Click here to apply your CV now
Contact information: recruiting@kpmg.com.vn or +84 (28) 38219266/ +84 (24) 39461600
Học viện APT là tổ chức đào tạo và nghiên cứu chuyên nghiệp trong lĩnh vực Kế toán, Kiểm toán, Tài chính và Quản trị Doanh nghiệp.
Học viện APT thường xuyên tổ chức các buổi hội thảo chia sẻ về định hướng nghề nghiệp từ những giám đốc điều hành, những nhà quản lý nhiều năm kinh nghiệm tại Big4 và những tập đoàn đa quốc gia.
Học viện APT đào tạo các khóa học về ICAEW CFAB, ICAEW ACA, Tiếng anh chuyên ngành Kế toán – Kiểm toán – Tài chính, Kiểm toán thực hành, Kiểm toán nội bộ, Hệ thống Kiểm soát nội bộ, Đọc hiểu và Phân tích Báo cáo tài chính…
---
Học viên Nghiên cứu và Đào tạo APT
Địa chỉ: Số 9 Trương Quyền, Phường 6, Quận 3, TP HCM
Điện thoại: (028) 225 335 78
Hotline: 0965 855 969
Website: www.apt.edu.vn